Buy a Duo Penotti 3 pack and get a Free Jar of Penotti Cookie Notti Original Cookie Butter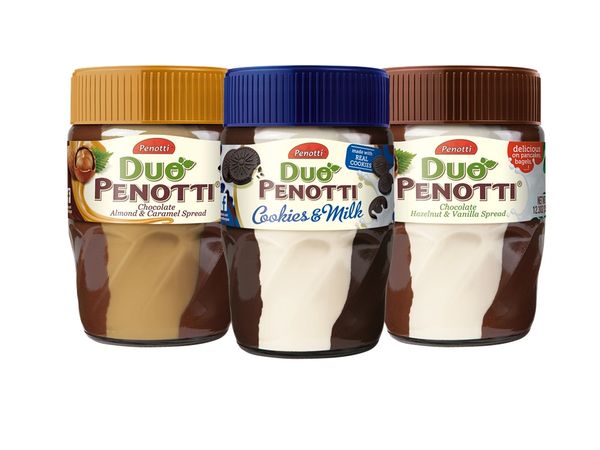 Buy a Duo Penotti 3 pack and get a Free Jar of Penotti Cookie Notti Original Cookie Butter
Buy a Duo Penotti 3 pack and get a Free Jar of Penotti Cookie Notti Original Cookie Butter


3 Pack
CHOCOLATE ALMOND & CARAMEL SPREAD
COOKIES & MILK SPREAD
CHOCOLATE HAZELNUT & VANILLA SPREAD
The Penotti Story

Since 1970, Penotti has been one of the world's largest chocolate spread
companies. The history of Penotti started when Marcello Marsolo Peeters,
whose family originally came from Sicily, created a delicious chocolate
hazelnut spread using Grandma Marsolo's original secret recipe. At the
same time the name Penotti, which comes from "nocciole" (Italian for
hazelnut), was to become the brand name of all Peeters' products.
Penotti is a leader in innovation and dedicated to developing the best
tasting chocolate hazelnut spreads, using only natural ingredients.
Duo Penotti is made of premium quality ingredients such as freshly
harvested hazelnuts and sustainably sourced ingredients to create the most
delicious taste:
● UTZ Certified cocoa - The UTZ Certified logo guarantees that the cocoa
in Duo Penotti is 100% sustainably resourced with care for the people
and the environment.
● RSPO Certified segregated palm oil - Sustainable palm oil is the way
forward to continue to supply the world without harming the planet.
● Organic milk - Research shows that organic milk contains more vitamins
and calcium than regular milk.
● All natural - GMO free, no colors, no preservatives, no artificial flavors
Reviews